ACTION ITEM
Email Carl Fisher, County Commissioners, Members of the press, other elected Utah County officials.
TO:Carl Fisher
carl@saveourcanyons.org
Dear Mr. Fisher

Mountain Accord continues to defy what Utah County elected officials have requested in their recent county resolution where they have asked for Mountain Accord executives to simply delete all references to Utah County lands in the most recent Accord document before the vote on Monday July 13th 2015. http://americanforkcanyon.com/wp-content/uploads/2015/07/07-07-2015-Mountain-Accord-Resolution.pdf
In Channel 2's news package tonight [July 10th 2015]  https://youtu.be/GVqrG9teFg4 Laynee Jones, Mountain Accord project manager has now alluded to the fact that Utah County elected officials have been on board the 416 acre land swap for sometime. This is new-news, therefore please identify who from Utah County has been on board as you have been in the Mountain Accord process for several years and were actively supportive of the 416 acre land swap.
Also, in addition to your response as to why Utah County lands continue to be included in the Accord proposal, and why you have not asked for the 416 acres to be removed as requested by American Fork, Cedar Hills, Utah County Commissioners- please also provide contact information for Brad Barber- who is helping to write legislation for a National Monument designation which include our Utah County lands and American Fork Canyon. Representative Kennedy, Commissioner Bill Lee, and others listed herein deserve to understand what you and others hagve been doing in Washington D. C. and it seems appropriate that we be able to view the legislation that has been presented or will be presented to the administration. We assume that he also traveled to Washington D.C. with you this past week.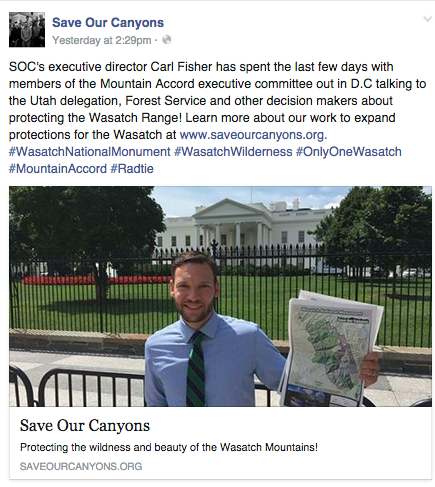 The photo of you standing in front of the White House holding up a map that includes Utah County lands is frankly troubling at this moment in time. http://saveourcanyons.org/campaigns/wasatchnationalmonument/
Perhaps after we have had our due process, it will be a reasonable consideration, but again, why haven't elected Utah County officials been invited to these discussions. It is troubling that Snowbird won't allow Utah County to be part of the democratic process as demonstrated in this video clip- Bob Bonar's hypocrisy is troubling and showing https://youtu.be/O3vi9e434Z4

Additionally Bob Bonar's / Snowbirds plans for the 1% and resort expansion while displacing the 99% also very concerning. https://youtu.be/RtnOSQl8xys 
Thank you for a timely response to this email and answers to questions herein. Save Our Canyons has been ineffective at engaging with Utah County residents and Utah County elected officials and the idea of including our County lands in your Monument is premature as well as what Mountain Accord has offered. Please update your maps to remove Utah County lands in your National Monument monologue until Utah County elected officials and the public have had time to run our own democratic processes.
Thank you for your consideration,
Signed_______
Copy and paste these emails. Mountain Accord stake holders, Utah County elected officials, members of the press.
aborgione@snowbird.com
bbonar@snowbird.com
bschvaneveldt@utah.gov
BSwaney@LOGANSIMPSON.COM
dfields@snowbird.com
debrap@utahcounty.gov
dgiles@pgcity.org
BChristiansen@heraldextra.com
allred@heraldextra.com
crivello@me.com
news@desnews.com
newsroom@sltrib.com
news@ksl.com
newsdesk@kutv2.com
news@fox13now.com
news@abc4.com
byutv@byu.edu
callred@heraldextra.com
jlee@desnews.com
americanforkcanyon@gmail.com
donwatkins1953@gmail.com
ggygi@cedarhills.org
hannah_lockhart@lee.senate.gov
mayor@afcity.net
jeffharris@utah.gov
jim_ireland@nps.gov
jstansfield@fs.fed.us
jtaylor@rideuta.com
julieinutah@gmail.com
kelsey.berg@mail.house.gov
larrye@utahcounty.gov
lallman@afcity.net
matthoward@utah.gov
msibul@rideuta.com
mdavis@co.wasatch.ut.us
mikekennedyforutah@gmail.com
sseager@mountainland.org
sfarrell@co.wasatch.ut.us
tracysee@utah.gov
wade.garrett@mail.house.gov
mayor@slco.org
BBonar@snowbird.com
DFields@snowbird.com
williaml@utahcounty.gov
larrye@utahcounty.gov
gregg@utahcounty.gov
ggygi@cedarhills.org
dwhittekiend@fs.fed.us
jason@chaffetz.com
janderegg@le.utah.gov
alison@historicparkcityutah.com
andy@parkcity.org
bberndt@ch.utah.gov
bbloedorn@utah.gov
bbonar@snowbird.com
becky.holt@learlaw.com
bill@visitparkcity.com
BMellor@slco.org
bryan@porcupinepub.com
bwheaton@deervalley.com
cannondj@pripd.com
carl@saveourcanyons.org
cconabee@utah.gov
cdoner@visitsaltlake.com
chris@cwmcorp.com
chris@newparkresort.com
cmcmullin@summitcounty.org
colin@utaholympiclegacy.com
coliver@slco.org
dallen@boyercompany.com
dave@skisolitude.com
david.dobbins@draper.ut.us
davidpratt30@gmail.com
dcr628@yahoo.com
des@desbarker.com
dgoreham@gmail.com
jalexbu@gmail.com
janwilking@gmail.com
jedwards@edcutah.org
jeffharris@utah.gov
jennifer.leaver@business.utah.edu
jheilman@parametrix.com
jhiskey@sandy.utah.gov
jjones@slchamber.com
jjones@summitcounty.org
jkohler@rideuta.com
jlayfield@backcountry.com
joanna.ganning@utah.edu
john@synergyfa.com
jordangarn@gmail.com
justin@slrealtors.com
jweidenhamer@parkcity.org
laynee@mountainaccord.com
lew.cramer@coldwellutah.com
Lmarkham@hwlochner.com
lsoffe@utah.gov
lsreichard@comcast.net
mdeloretto@rideuta.com
mellott@cbre.com
mgrodner@rideuta.com
mike@grassroots-agency.com
mikem@alta.com
mmerrill@slchamber.com
msibul@rideuta.com
mwchristopherson@stoel.com
natalie.gochnour@business.utah.edu
nduerksen@sandy.utah.com
NFogarty@strategiceconomics.com
nkurth@petzl.com
onno@alta.com
phildean@utah.gov
rechitecture@gmail.com
rusty@powderbird.com
ryanstarks@gohebervalley.com
sbeck@visitsaltlake.com
stan@sandychamber.com
stephanie.johnston@vacationclub.com
steve@bhhsutah.com
steve@roney.net
stuart.clason@slcgov.com
tjp@townofalta.com
vvarela@utah.gov
alison@historicparkcityutah.com
andy@parkcity.org
bberndt@ch.utah.gov
bbloedorn@utah.gov
bbonar@snowbird.com
becky.holt@learlaw.com
bill@visitparkcity.com
BMellor@slco.org
bryan@porcupinepub.com
bwheaton@deervalley.com
cannondj@pripd.com
carl@saveourcanyons.org
cconabee@utah.gov
cdoner@visitsaltlake.com
chris@cwmcorp.com
chris@newparkresort.com
ckahlow@fs.fed.us
cmcmullin@summitcounty.org
colin@utaholympiclegacy.com
coliver@slco.org
dallen@boyercompany.com
dave@skisolitude.com
david.dobbins@draper.ut.us
davidpratt30@gmail.com
dcr628@yahoo.com
des@desbarker.com
dgoreham@gmail.com
jalexbu@gmail.com
janwilking@gmail.com
jedwards@edcutah.org
jeffharris@utah.gov
jennifer.leaver@business.utah.edu
jheilman@parametrix.com
jhiskey@sandy.utah.gov
jjones@slchamber.com
jjones@summitcounty.org
jkohler@rideuta.com
jlayfield@backcountry.com
joanna.ganning@utah.edu
john@synergyfa.com
jordangarn@gmail.com
justin@slrealtors.com
jweidenhamer@parkcity.org
laynee@mountainaccord.com
lew.cramer@coldwellutah.com
Lmarkham@hwlochner.com
lsoffe@utah.gov
lsreichard@comcast.net
mdeloretto@rideuta.com
mellott@cbre.com
mgrodner@rideuta.com
mike@grassroots-agency.com
mikem@alta.com
mmerrill@slchamber.com
msibul@rideuta.com
mwchristopherson@stoel.com
natalie.gochnour@business.utah.edu
nduerksen@sandy.utah.com
NFogarty@strategiceconomics.com
nkurth@petzl.com
onno@alta.com
phildean@utah.gov
rechitecture@gmail.com
rusty@powderbird.com
ryanstarks@gohebervalley.com
sbeck@visitsaltlake.com
stan@sandychamber.com
stephanie.johnston@vacationclub.com
steve@bhhsutah.com
steve@roney.net
stuart.clason@slcgov.com
tjp@townofalta.com
vvarela@utah.gov
alane@desertroseenv.com
allison@wildutahproject.org
amandasmith@utah.gov
andy@parkcity.org
ann.ober@parkcity.org
blebaron@utah.gov
brandonweston@utah.gov
brian@pcmr.com
carl@saveourcanyons.org
ckahlow@fs.fed.us
clint.mcaffee@parkcity.org
court.strong@utah.edu
dcsmith@sisna.com
dgellner@slco.org
doberndorfer@utah.gov
ecodude.dc@gmail.com
eff.niermeyer@slcgov.com
emcculley@intermountainaquatics.com
erin@wesaveland.org
Fronczak.David@epa.gov
greg.libecci@slcschools.org
gvargyas@hotmail.com
henry@skisolitude.com
howie@wanderlustimages.com
jason.a.gipson@usace.army.mil
jclancy@friendsofalta.org
jdegiorgio@tnc.org
jesse.stewart@slcgov.com
JHG@townofalta.com
jim.ehleringer@utah.edu
jim.steenburgh@utah.edu
jkalar@deervalley.com
jmccarthy@westminstercollege.edu
jmmatthews@fs.fed.us
jpark@cottonwoodheights.utah.gov
jpeck-dabling@slco.org
jpowell@uacd.org
jroberts@slco.org
kcarson@summitcounty.org
keith@canyonwater.com
klundeen@utah.gov
lahanson@utah.gov
laura.briefer@slcgov.com
lyoder@summitcounty.org
maclosser@gmail.com
mary@wildutahproject.org
matthoward@utah.gov
mdeloretto@rideuta.com
mesa.steward.info@gmail.com
mhubbard@slco.org
mike.lewis@riotinto.com
molivos@alta.com
nell.larson@usu.edu
pas@patrickashea.com
pgomben@fs.fed.us
richard.toth@usu.edu
rsorensen@sandy.utah.gov
sericsadler@gmail.com
smorrison@parkcityhistory.org
space@sandy.utah.gov
stephanie@wildawareutah.org
stevecathy8@q.com
vicki.bennett@slcgov.com
wendy@utahopenlands.org
wheeler@mwdsls.org
wilson@mwdsls.org
wwa.bardsley@gmail.com
acalacino@slco.org
alex@saveourcanyons.org
allen@sci.utah.edu
andy@parkcity.org
barberconsult@comcast.net
bob@visitparkcity.com
bradp@utah.gov
brucestrom@utah.gov
ccushing@segroup.com
charlie@mountaintrails.org
Chris@townofalta.com
ckahlow@fs.fed.us
dave@cyclingutah.com
dpage@utah.gov
dsmith@co.wasatch.ut.us
dtutah@gmail.com
dure@summitcounty.org
emorgan@alta.com
erin.mendenhall@slcgov.com
fbreuling@msn.com
greg.hilbig@draper.ut.us
hdeters@parkcity.org
hoopa@alta.com
jamiek@wasatchbackcountryalliance.org
jared@powderbird.com
jasons@libertymountain.com
jim.byrne@yahoo.com
johnhknoblock@yahoo.com
jsplan@rideuta.com
julia@saltlakeclimbers.org
kirk.nichols@health.utah.edu
lauriebackus@utah.gov
lorenmk23@msn.com
mabarille@gmail.com
mas@clydesnow.com
mmenlove@winterwildlands.org
mpeterson@cottonwoodheights.com
Nate.Smith@MountainED.com
nato@skiutah.com
paul@utahavalanchecenter.org
rdoyle@brightonresort.com
red@outdoorutah.com
rmhodges@rmhodges.com
scott.schumann@utah.edu
sean.murphy@slcgov.com
searl@sandy.utah.gov
spencerbyrne@hotmail.com
sscheid@fs.fed.us
stella@friendsofalta.org
steve@deervalley.com
store@wasatchtouring.com
tim.henney@parkcity.org
tom.diegel@gmail.com
tom@outdooralliance.net
troy@trailsutah.org
will@commercialchemistries.com
wpratt@basinrecreation.org
mayor@afcity.net
ggygi@cedarhills.org
kowallis.johnmyrna@gmail.com
troy.walker@draper.ut.us
mayor@emcity.org
mayor@elkridgecity.org
mcdonald@ci.heber.ut.us
mayor@highlandcity.org
bwilson@lehi-ut.gov
jacerson@lindoncity.org
rfbrunst@orem.org
mayor@pgcity.org
mayorbrailsford@salemcity.org
khunsaker@santaquin.org
jmiller@saratogaspringscity.com
mayor@spanishfork.org
mayor@vineyardtown.com
mayor@woodlandhills.cc